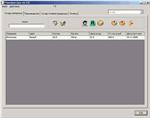 For entrepreneurs who keep home-based garment workers. The program allows you to conduct a full accounting of the production process, from receipt of the tissue at the warehouse and ending with the sale of the finished product. This is a completely new version of the program, I think you should look at it. The program includes:


- Receipt at the warehouse of the Material.

- Sending material in production.

- Automatic calculation of the cost of the product, depending on the size of the product and its constituent materials.

- When lack of material the program tells what material is not enough for the manufacture of the product.

- Automatic tracking salaries seamstresses.

- Replacement of a cut between the seamstresses.

- Sending a finished product to the warehouse sale.

- Ability to create an unlimited number of warehouses implementation.

- The ability to move goods between warehouses with the possibility of adjusting the price of the product.

- When selling products it is possible to change the price of the product. And that's not all.

7 kinds of complex reports that show the full range of profit, turnover and costs for each of the products. Watch for new versions of this program.


CAUTION To install the program, you will need the serial number: MANUFACTURE 12-A963-247
Immediately after payment you will receive a form to fill in the registration data, which will have to fill the following fields:

- Full Name;

- E-mail address (email);

- Address to send additional information on the program, a certificate and special offers .;

These data will be transferred to the seller to complete the transaction of sale of goods.
No feedback yet