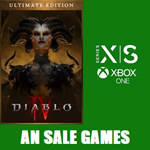 ✅💲 INSTANTLY AFTER PAYMENT YOU GET 💲✅ :
Login and password for a shared account, with licensed games, to play from your personal account
- Support Only Russian Language
✅ GAMES : ✅
Diablo 4 Ultimate Edition Xbox Series X|S , Xbox One
✅ VIDEO INSTRUCTIONS ✅
You play from your personal account, with all the saves and achievements, to your personal account, fully online and story company, watch the video:
Xbox Series X|S, Xbox One
https://youtu.be/of9DPi-Zyg8
❗ These videos above are my property and are prohibited for use by other sellers ❗ These game methods work stably only on my accounts, which you can see at the link ✅
https://ggseller.1000100.ru
✅
✅ Thank you so much for your attention ✅
✅ BONUSES : ✅
- 5 percent cashback for a positive review, a huge plus in karma, plus a thousand, to all your characteristics 😅 ;
- Permanent cumulative discount from 5 percent, immediately after the first purchase;
- Great mood from a great game;
✅ BY CLICKING "BUY", YOU AGREE TO EVERYTHING BELOW, ACCEPTING THE TERMS: ✅
- Support Only Russian Language ;
- The funds you paid are non-refundable once you have activated your account, because it is a digital product ;
- Without the Internet, games do not start ;
- We are not responsible for goods that are not working through no fault of ours ;
❗ Prohibited: ❗
- Make an account home;
- Any modifications and changes to accounts ;
- Game from this account, it serves only to activate and download games, play strictly from your personal account ;
- Purchase of any subscriptions to the account ;
- Transfer and resale of the account ;
- Using an account on any sites and devices, except for your one Xbox ;
✅ WARRANTY : ✅
- You can buy goods around the clock;
- Support works from about 12 noon to 20 pm Moscow time. Sunday is a day off ;
- Personal account
https://oplata.info/
, there are all your purchases, correspondence with the seller and gift cards;
- We provide a security code to activate your account, if necessary, within 3 months from the date of purchase, no more than once a month;
- In case of blocking a Microsoft account (very rarely happens), we change the account once, within 14 days, from the date of purchase, we will also provide a discount. The version of the game on the account, when replacing it may differ;
- Any shared account, you need to consider how you played enough, went through the necessary games, enjoyed it, then deleted it, and if you want forever, then you need to take the key, which costs much more 😉 ;
- Password change guarantee 3 months from the date of purchase .